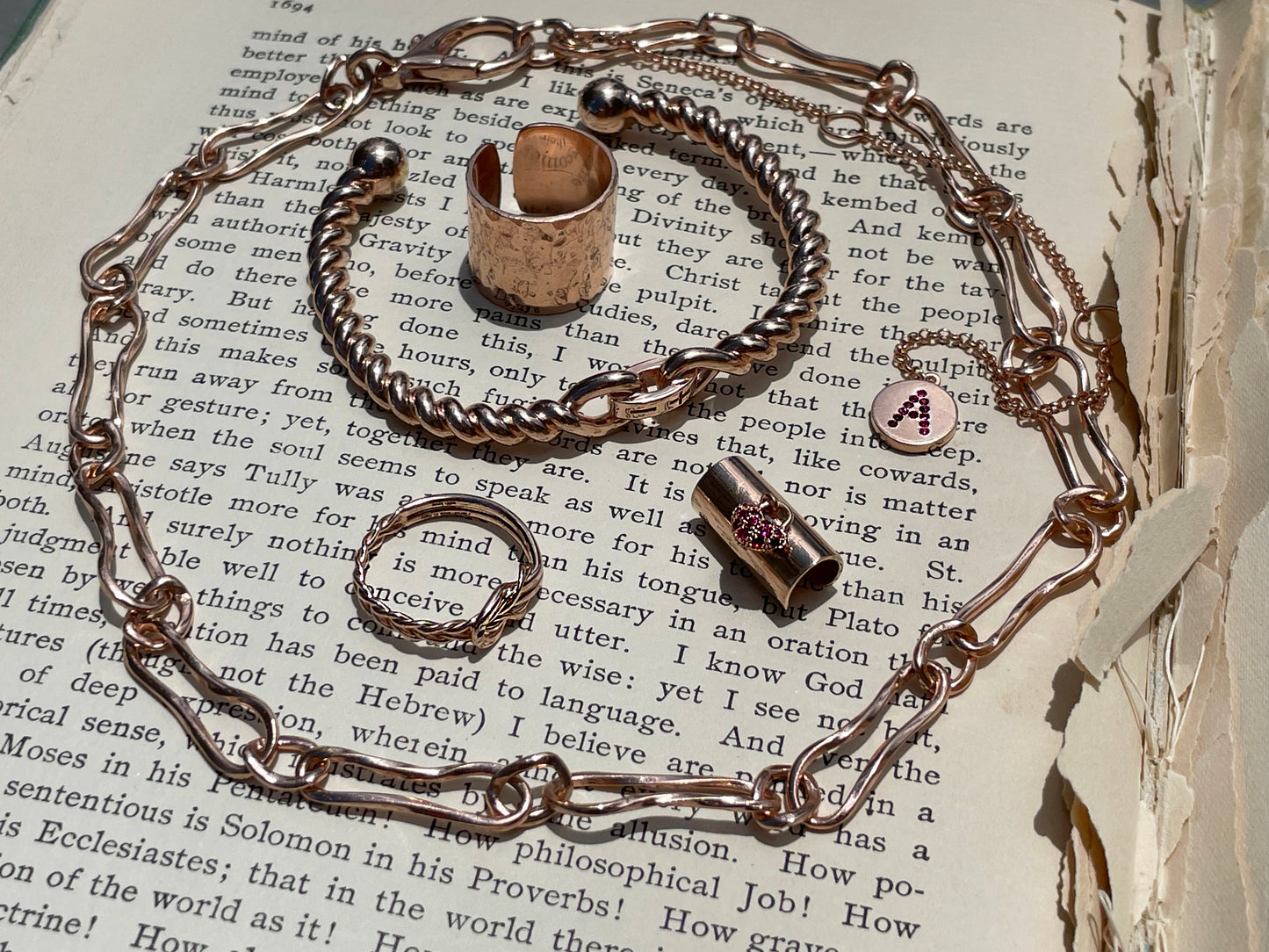 Do you love rubies as much as I do? I wanted to share a little bit about why they are so special, besides being a rare precious stones, it measures 9 on the Mohs Scale of Hardness, second only to diamond and matched with sapphire. This makes ruby an extremely hard and durable gemstone.
A little bit on metaphysical properties:
"Ruby is believed to promote loving, nurturing, health, knowledge and wealth. It has been associated with improved energy and concentration, creativity, loyalty, honor and compassion. Ruby is thought to be protective of home, possessions and family. Ruby is said to stimulate heart chakra and bring spiritual wisdom while shielding against psychic attacks." All of these special properties resonate with me so much on a spiritual level. I will always have rubies in my jewelry box.
Another reason for my passion of this stone is the color! Very special red, which happens to be my birthstone and favourite color. I fell in love with rubies at a young age, when my mother gifted me my very first piece of jewelry, a dainty ring, that I still wear till this day. Because my very first jewelry line was made from rubies, I wanted to present it with the rose gold color, to compliment the color tone. Also rose gold is a flattering color on all skin colors.
Can I Share some of my favourite pieces and looks with you? If so, see below, 3 ways to wear the jewels from casual daytime to formal event.
1.
This one is my day look. I wear just the hoops [without the heart on the Self Love Earrings]. I add the chain without the pendant [on the Self Love Necklace]. My go to rings are from the basic line - the Hammered Band and Knot Ring with a tiny ruby. Tie it all in with my Adjustable Bracelet for minimal arm candy game. :)
2.
This one is my playful dinner date look. I use one of the Self Love Earrings on one ear, and the Love Bug Earring on the other ear. On this look I wear the Self Love Necklace with its pendant [pave setting]. Finishing the look with Knot Ring and the Hammered Heart Ring [pave setting]
3. 
Last but not least, is my formal look. One of my favourite designs in this collection is Amore Necklace with its playful extension [which could be worn at the front or back]. Since the chain on the necklace is so unique and a statement on its own, I wear minimal ear candy with it. Just a simple ear cuff with a ruby heart lock, engraved with "l o v e r". Adding back the "-+" Bracelet, Hammered Band, and the Knot Ring to finish it off. 
I am curious to know which looks resonate more with you? Which pieces you gravitate towards? Please write your comments below. 
Or you  can see the close up product shots of all the pieces in the ruby drop here:
Pardon for the video quality, as it is home made and I am still learning all these bits of the digital space. Bare with me!
Thank you for taking the time, reading this and following along my journey,