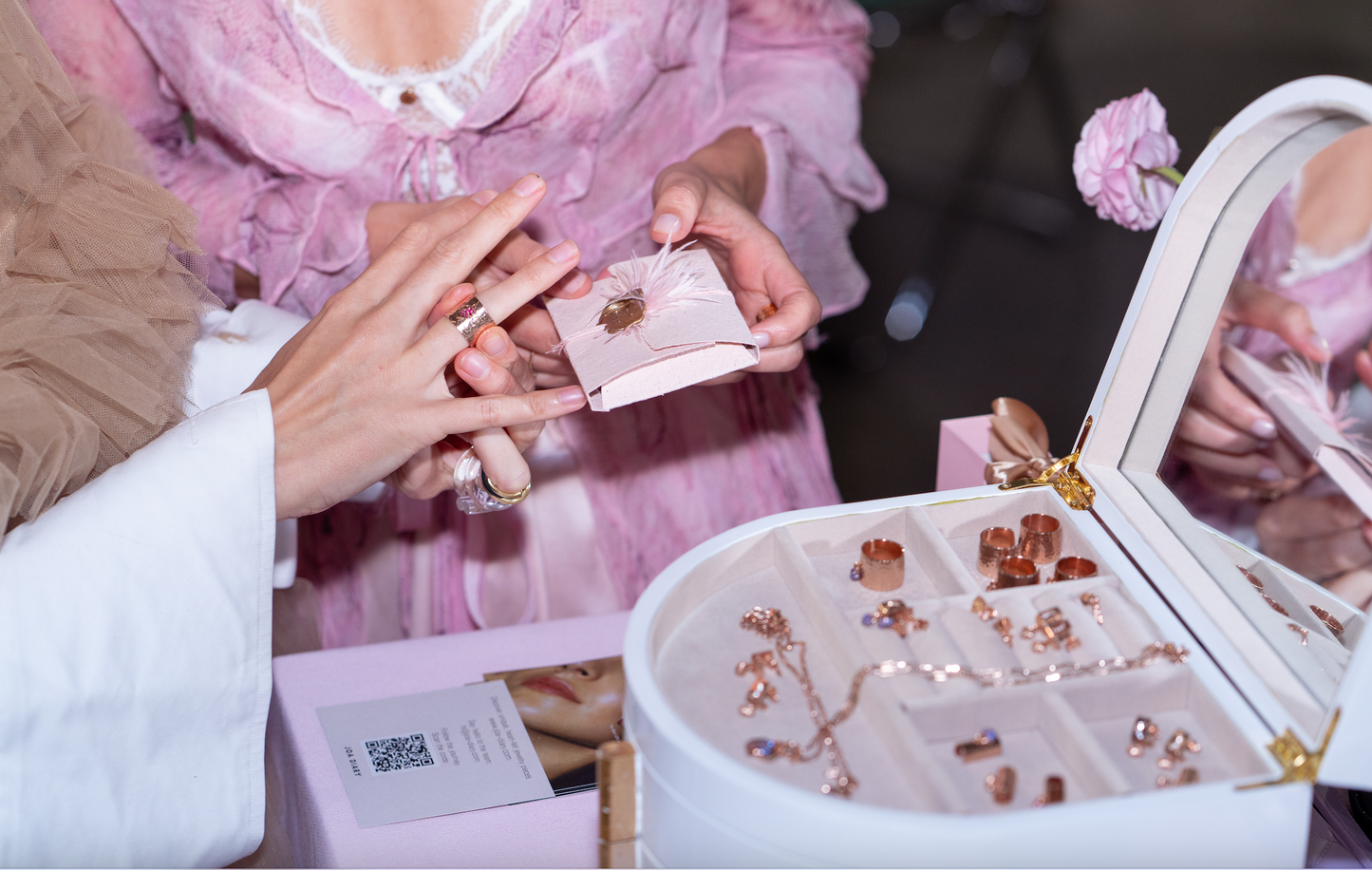 March is known as Women's Month, which is a special time to celebrate women's achievements and contributions to society. During this month, people around the world show their appreciation and respect for women by gifting them with thoughtful presents. Whether it's a small token of appreciation or a grand gesture, gifting on Women's Month is an excellent way to honor the women in your life and show them how much you care. In this article, we will demonstrate why JOA Diary is a perfect gift for Women's Month that are sure to make any woman feel special and appreciated.
Demi-fine handcrafted jewelry pieces have become a hot commodity in recent years. These unique pieces are made using high-quality materials and intricate designs, making them the perfect addition to any jewelry collection. JOA Diary jewelry is handcrafted in Rome, Italy.
Not only do we offer beautiful designs, but we also pride ourselves on our affordable prices. You don't have to break the bank to add some sparkle to your wardrobe! Plus, our pieces make great gifts for friends and loved ones. Who doesn't love receiving a thoughtful piece of jewelry?
Recently, a jewelry popup event featuring our limited edition demi-fine handcrafted pieces was held, and the response was overwhelming. The pieces were almost sold out, and customers were raving about the quality and beauty of each piece. It's not hard to see why these limited edition demi-fine handcrafted pieces flew off the shelves at the jewelry bazaar. Each piece is crafted with meticulous attention to detail and features stunning brilliant cut gemstones and precious metals, making them truly one-of-a-kind. These pieces are meant to be cherished and treasured for years to come, making them the perfect investment for any jewelry enthusiast.
The demand for limited edition demi-fine handcrafted pieces has been steadily increasing over the past few years. Customers are looking for unique pieces that stand out from the crowd and showcase their individuality, but at a very reasonable price. These pieces offer just that, with their intricate designs and captivating gemstones. It's no wonder that they are almost sold out after the recent jewelry shopping event. If you're looking for a statement piece that is both beautiful and unique, look no further than limited edition demi-fine handcrafted jewelry.
With their limited availability, now is the time to invest in a piece that you will cherish for years to come. Don't miss your chance to own a piece of truly exquisite jewelry. In addition to the quality of the product, the packaging of these items is equally impressive.
Each item comes in a beautifully designed envelope, and a silk pouch that not only protects the item but also makes it an attractive gift option. The packaging is made from high-quality paper stock from France. The attention to detail in the packaging design is impressive, making it perfect for gifting to loved ones on special occasions such as birthdays, anniversaries or holidays. The packaging adds value to the item and enhances the customer's overall experience in receiving an exceptional product. With the beautiful packaging, these items are ready to be gifted as soon as they arrive, making them a convenient and thoughtful present option for those who appreciate quality and style.
So why wait? Check out our website and browse our selection today, while the items are still in stock. Make someone smile. Or maybe, just spoil yourself.
With Love,
JOA