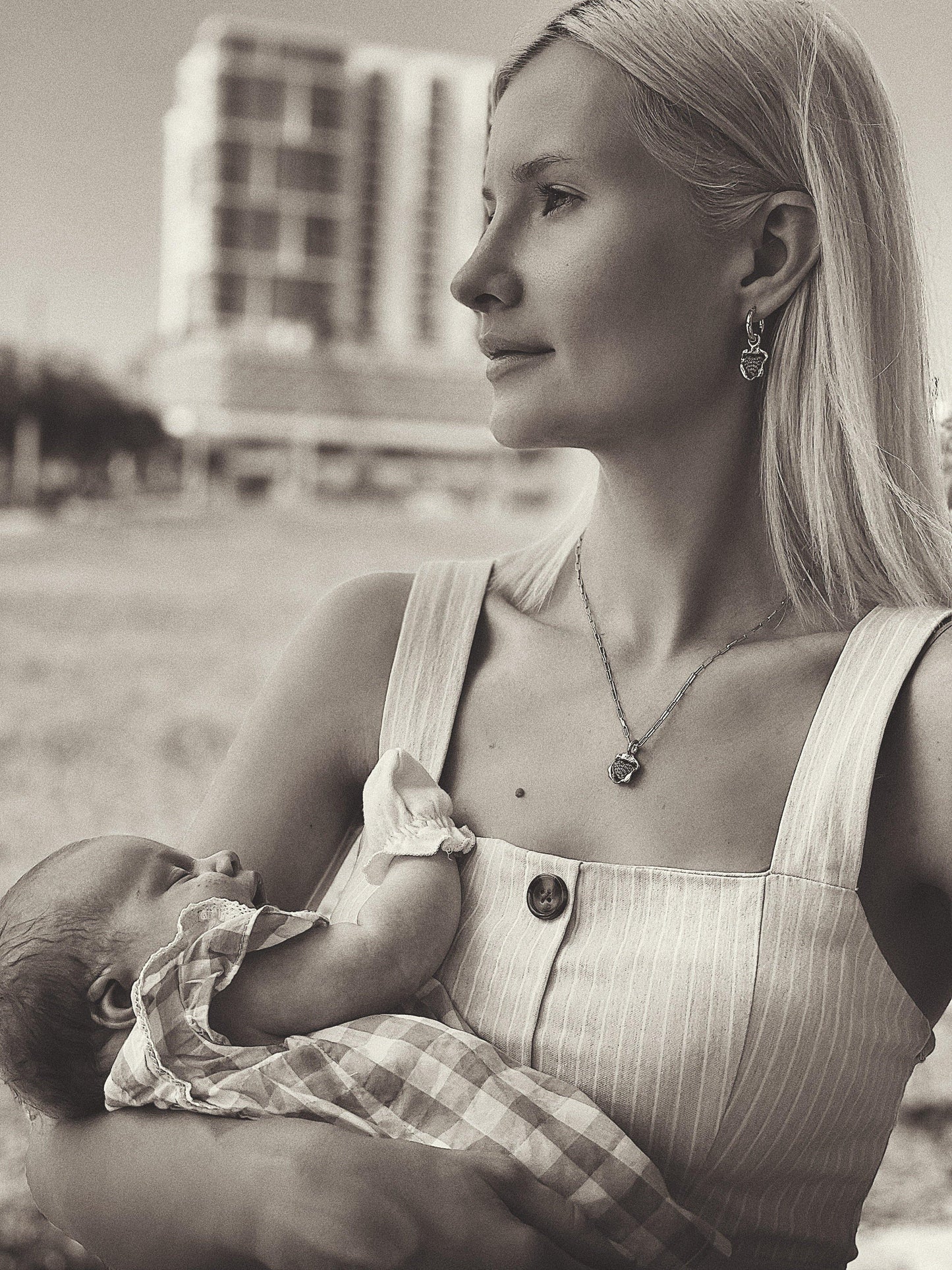 This Mother's day holiday I want to acknowledge and celebrate all women who chose to take on this beautiful journey. I am so inspired by your strength, dedication, compassion and unconditional love.  As I had mentioned in the previous entry, I am eternally grateful to my mother for everything she had given me, every lesson she taught me, every ounce of love and support she had provided me. I hope one day I will be able to give back to the world by creating my best project in a human form :). I have infinite amount of examples of extraordinary women in my life. I am so humbled to be supported by you, thank you. But for now, I would love to dedicate this writing to my dear friend Veronika, who recently had given birth to her 2nd child, beautiful baby girl named Aurora.  
-
Veronika is an inspiration for her ability to do it all. Adjusting to being a new mom with her first child, son, Leo while pandemic, took over our lives, especially those who work in fashion, like herself. She handled this obstacle with grace and confidence because at the end of the day she had no other choice but to be strong. She had her baby boy to care for with harmony and abundance. When you focus on the positive life tend to bless you with miracles.  Being separated from family who lives in Russia and Italy, friends and any professional help she could get Veronika was inspired to inspire. Even though her career was shaken and was unstable, she persevered and was able to get back on track relatively quick. Inspired by her challenging year, she decided to start her own business to have a better sense of security for herself and her family. Courageous to say the least. While juggling life lemons with ease and excitement she discovers she was blessed with another human miracle - Aurora, who was born just a couple of weeks ago. She says it is the best gift any mother could receive. Every challenging, uncomfortable or even painful event during the 9 months leading up to delivery is well worth it and beyond. According to Veronika the best part of motherhood, is actually hard to explain. Simply the loving unbreakable connection between mom and her cubs. It was a difficult delivery with unexpected dramatic circumstances no one had anticipated nor prepared her for. But she now had 2 little ones to fight even harder for and oh, so inspiring she dealt with the unexpected issues like a warrior. I am so proud of you V. I hope you know how much you influence others in a positive way. Thank you for sharing with us, and your followers the beautiful journey of the motherhood. Your social visual motherhood diaries are so informative and helpful for future moms out there. [@veronikalosyuk]
I also want to thank you for your friendship and support of a fellow female entrepreneur and a creator. I enjoy working with you for your great energy and smiles. Thank you for choosing JOA DIARY jewelry, and being an ambassador of craftsmanship and quality. As we become responsible for the lives of others, we also become more attuned with ourselves. Hence we start mindfully paying attention to beautiful things that last, quality over quantity, appreciating artisanry and impact of it all on the planet. 
-
Let us embrace the communicator, the nurturer, the warrior and the compassionate lover that us women are. Lets help uplift one another, support one another, and inspire one another. 
Happy Mother's Day to you all! 
With  l o v e,
JOA
18kt rose gold jewelry, mothers day jewelry, gifts for her, gifts for mom, ruby jewelry, sapphire jewelry, trendy jewelry, handmade jewelry, made with love