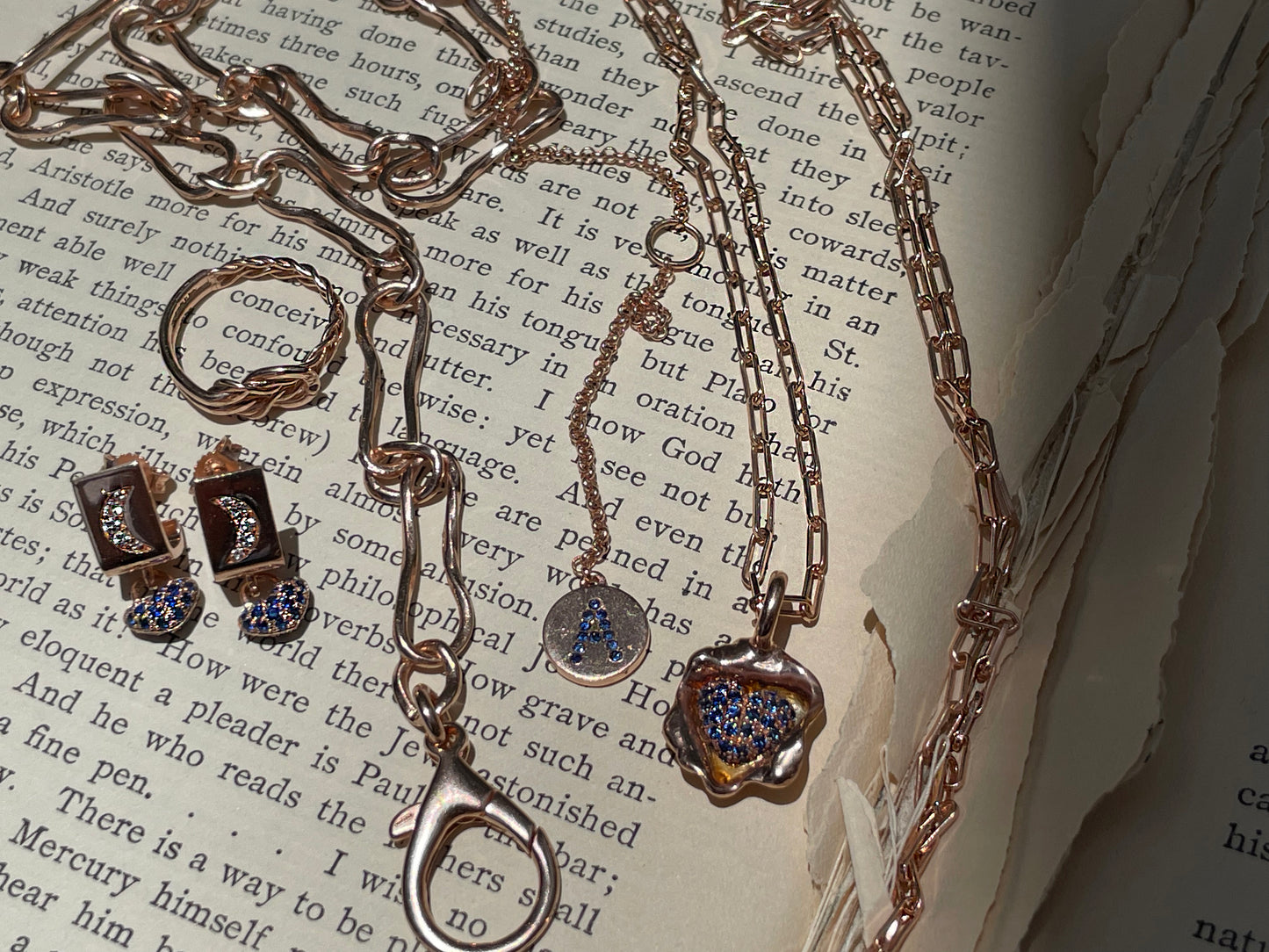 Hello beautiful community,
I received a lot of feedback on my ruby styling post, and I am so pleased you guys loved it so much. So I decided to put together a little style guide for the sapphire drop as well. 
But first, I want to tell you a little about why I chose sapphire as my second choice of the precious stone for the amanti collection. Well, it all goes back to the childhood again. My mother used to wear this beautiful lilac color sapphire ring, which I was obsessed with. Till this day I have not seen anything alike. It was handcrafted in Greece, with the appearance of something from the Byzantine times. I recently made a trip to the Metropolitan museum, walking through the Byzantine section of the museum, looking through the ancient gold work and it hit me. It looks like my mothers ring. Once I find the right stone to recreate something in my own style I would like to dedicate a ring to my mom, at the end of the day, she is my forever muse. I am on a search of lilac color sapphires, but have not yet found something quite so special. When I do, I will certainly co-create with this beautiful gem. 
As you know just like the rubies, sapphires are also the hardest gem on the Moh's scale, numbering at 9, second after the diamond. Sapphires are organically created by nature in many colors. They include shades of green, orange, yellow, pink, purple, blue, white, minus the red, which is actually the ruby. That's the only thing that separates ruby from sapphires, is the red color, but both are from the corundum family with the same components and from the same family.
There are plenty of metaphysical aspects of sapphires that I am drawn to as well. It is said to be true that the presence of the gem, encourages you to maintain a strength of mind. It is excellent for countering negative influences and negative thought patterns. It helps you see the unconscious level of the mind and stimulates your dream state. It can be used effectively for astral travel and lucid dream work or for even traveling to higher realms of consciousness during meditation. How neat is that? I believe I am quite spiritual and truly believe in the power of healing and working with gems. Curious to know what you think about the metaphysical world, so if you can shoot me a line if its an interesting subject for you!
Look number I: 
Amore necklace with Sapphire A, Self Love Pavé Sapphire Necklace, Love Bug Earring in Solo Sapphire, "lover" Ear Cuff with Pavé Sapphires, Hammered Band, and my Balancing Bracelet all of these items, simply put together with a periwinkle crispy cotton poplin oversized shirt and denim.
Look number II:
In the video on accident I called the Self Love Pavé Sapphire Earrings "Ruby Earrings, pardon for the confusion, I only caught this mistake after I had uploaded the video on youtube. The earrings pair back to Aurora Plain Chain, the Bracelet, and the Hammered Heart Ring with Pavé Sapphires. For this feminine look, as you see in the video, I styled it with a feminine botanical neutral print which ties all the feminine pieces together. 
Look number III:
Lastly, I wore my favourite To The Moon Pavé Sapphire Earrings, with Self Love Pavé Sapphire Necklace together with Aurora Plain Chain, Knot Rings, and Amore Necklace as a Bracelet. This statement look was styled with a Celine Silk Slip Dress from my JOA DIARY etsy dress shop. I finished this ensemble with a dramatic smokey eye makeup for a grand night out. 
So, 1, 2 or 3 for you?
If you would like to get closer to these pieces, feel free to explore the sapphire collection on the site, with up close and personal of each product shots.
Would love to hear from you, to know which gem stones you are drawn to, if you like sapphires and why and how did I do with my styling tips?
Please reach out to me on Aleksandra@joa-diary.com
With l o v e, always
JOA